Our Site Plan Design Packages
Simple
Package Site Plan
Property Lines

Primary Structure

Roofline

Lot Dimensions

North Arrow

Scale

Measurements Between Major Features

Parcel ID
Highest in quality and accuracy
Medium
Package Site Plan
Simple Package site plan

Driveway

Fence

Sidewalks

Trees

Swimming Pool

Accessory Structures
Plans meet all planning requirements
Premium
Package Site Plan


Residential / Commercial
Medium Package site plan

Landscape

Paths

Shrubs

Lawn

Well and septic system

Parking Spots
100% guaranteed compliant plans
Gold
Package Site Plan


Residential / Commercial
Premium Package site plan

Additional new structures

Topographic Contour Lines

Vicinity Map, Graphic scale

DWG, JPG

Custom paper Size Request

Rush Order Site plan - less than 12 hours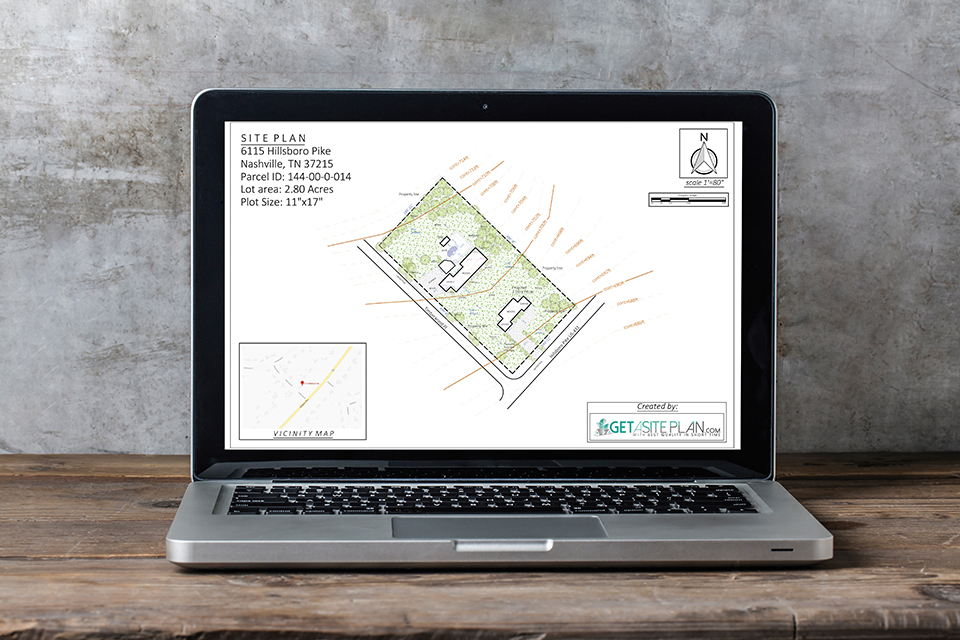 Welcome to our official Get A Site Plan site,
Get A Site Plan team offer you four standard site plan packages with a different level of detail. Depending upon what you will be using your site plan for will determine which is best for you. For most building departments our Medium Site Plan is the best solution.  You will have the option to add additional items such as structures, vicinity map, topographic information and more once you select a plan you want. 
Important note: Before ordering: Please verify with your building department that they DO NOT require the plan to be prepared by surveyor, architect or engineer. We are a Drafting Company and do not stamp, sign or seal plans. Our plans are non-certified.
Important note: After Ordering: You will receive a draft of your site plan within 24 hours for your review, or RUSH if you chose that.
If you need any edits after reviewing the plan just mark those changes on the draft and send it back to us and we will make those adjustments.
*All plans are delivered via email and they are in PDF – digital version, also you can get DWG file too if you chose that.
Price Listing Details
Simple Site Plan
Medium Site Plan
Premium Site Plan
Gold Package Site Plan
Property Lines
Property Lines

✔

✔

✔

✔

Primary Structure
Primary Structure

✔

✔

✔

✔

Roofline
Roofline

✔

✔

✔

✔

Lot Dimensions
Lot Dimensions

✔

✔

✔

✔

North Arrow
North Arrow

✔

✔

✔

✔

Scale
Scale

✔

✔

✔

✔

Measurements Between Major Features
Measurements Between Major Features

✔

✔

✔

✔

Parcel ID
Parcel ID

✔

✔

✔

Driveway
Driveway

✔

✔

✔

Fence
Fence

✔

✔

✔

Sidewalks
Sidewalks

✔

✔

✔

Trees
Trees

✔

✔

✔

Swimming Pool
Swimming Pool

✔

✔

✔

Accessory Structures
Accessory Structures

✔

✔

Landscape
Landscape

✔

✔

Paths
Paths

✔

✔

Shrubs
Shrubs

✔

✔

Lawn
Lawn

✔

✔

Well and septic system
Well and septic system

✔

✔

Parking Spots
Parking Spots

✔

✔

Additional new structures
Additional new structures
Optionally
Optionally
Optionally

✔

Topographic Contour Lines
Topographic Contour Lines
Optionally
Optionally
Optionally

✔

Vicinity Map, Graphic scale
Vicinity Map, Graphic scale
Optionally
Optionally
Optionally

✔

DWG
DWG
Optionally
Optionally
Optionally

✔

JPG
JPG
Optionally
Optionally
Optionally

✔

Custom paper Size Request
Custom paper Size Request
Optionally
Optionally
Optionally

✔

Rush Order Site plan - less than 12 hours
Rush Order Site plan - less than 12 hours
Optionally
Optionally
Optionally

✔