What is a Site Plan?
A site plan would simply outline the space that can be found outside the building. It includes driveways, parking lots and cross streets. When designing the site plan, special attention is paid towards the external dimensions of the building. In addition, the dimensions of your establishment would also be taken into account. All cross streets, driveways, and alleys that can be found in the surrounding area are included in the site plan. It would essentially show everything on the parcel including your house and any accessory structures (sheds, porches, patios, decks…). You can even request for a more detailed site plan that would show your well, septic system, landscapes, etc.
Site Plan drawing provides important information about the building as well. The information provided about the building from site plan includes total floor area in square feet and the number of floors. The entrances and exits to the building are clearly mentioned in the site plan as well. You can order a "Floor Plan" which would show all the rooms on one floor of the house/apartment/store that you choose to show. That means all the bedrooms, bathrooms and storage rooms that are present in your house, or the house you want built.
Here you can explore our site plan packages:
When drawing the site plan, all the parking spaces that can be found on the property are taken into account. The specific dimensions of each and every parking lot are also measured and included in the site plan. This includes the entrances and exits that are available for the parking lot as well. Most often, that is for commercial properties that are required to show the parking spots on the parcel.
Usually, there is a proper direction of traffic flow in a parking lot. It is also being indicated through the site plan. It is not necessarily needed for site plans to be generated electronically. The primary requirement is that it should include all the information listed above.
Get A Site Plan team makes Site Plans fast and easy!
Our team of experienced designers provides a complete design and drafting services for different types of site plans. Our team of well-versed CAD designers deliver drafting services to anyone who needs a non-certified site plan but doesn't have the time or experience to draw one himself. We are highly efficient and will deliver your plans to you in no time! We're, also, highly flexible, so any changes/updates you want done to your already existing draft we send, we can do in short notice! We have great relations with our customers and are always happy to help in any way. Our customer support team consists of charismatic people that will not hang up until your all questions are answered! We have fast response time on both cellphone and emails, and will always try to help best way we can!
Site plans are our forte, but we also create Conceptual Layouts, Floor Plans, Elevations, and any other CAD-related projects which you may need. Floor Plans are commonly required alongside Site Plans, so we can do both in short notice and help you get settled with accurate plans! Sometimes Elevations are required with the Floor Plan and Site Plan to show the design of the structure from a certain perspective.
How do we work?
Depends on your need, you start by selecting the level of detail you require for your site plan here. We offer four choices for site plans that vary in the level of detailed provided. They are categorized in Residential and Commercial Site Plans. Commercial Site Plans usually require a lot more information than Residential. If you are unsure which level of detailed is required for your project, your building department is the best source of information.
Next step is to provide us with the properties address. It is also desirable to provide us with any information about the building/structure being drawn, for instance, what it is supposed to be. You can fill that in in the Additional Information tab on the order page. You can also provide us with any type of sketch (it can be amateurish, drawn by hand), survey or any drawing of that sort that can help us in providing you with an accurate site plan for your structure/home.
You, also, have the option to select the specifications for the final Site Plan. Those additional services are "Add New Structure", "Add Topographical Lines", "Add Vicinity Map to Site Plan" or "Rush Order", and many other things you can see by clicking here. All of those options are provided to you in order to help you show a certain structure you want built, or add more detail to the Site Plan that may be required by your building department.
From there, the order is allocated to one of our experienced designers. We will look up information about the property from existing data, such as available satellite imagery, GIS information, County parcel maps, and other public information sources. If additional information is required, we will contact you via email or simply give you a call. We always look forward to communicating with our customers as communication is key to mutually succeeding.
If we are unable to find the information we need to create Site Plan for your plot, you will be notified as soon as possible, and you will receive a full refund. However, this does not happen often. We usually have all the information provided, and if not, as stated above, we will be sure to contact you either by calling you or sending you an email to the email address you provided us with. You should check your email address frequently, to see if you received any emails from us.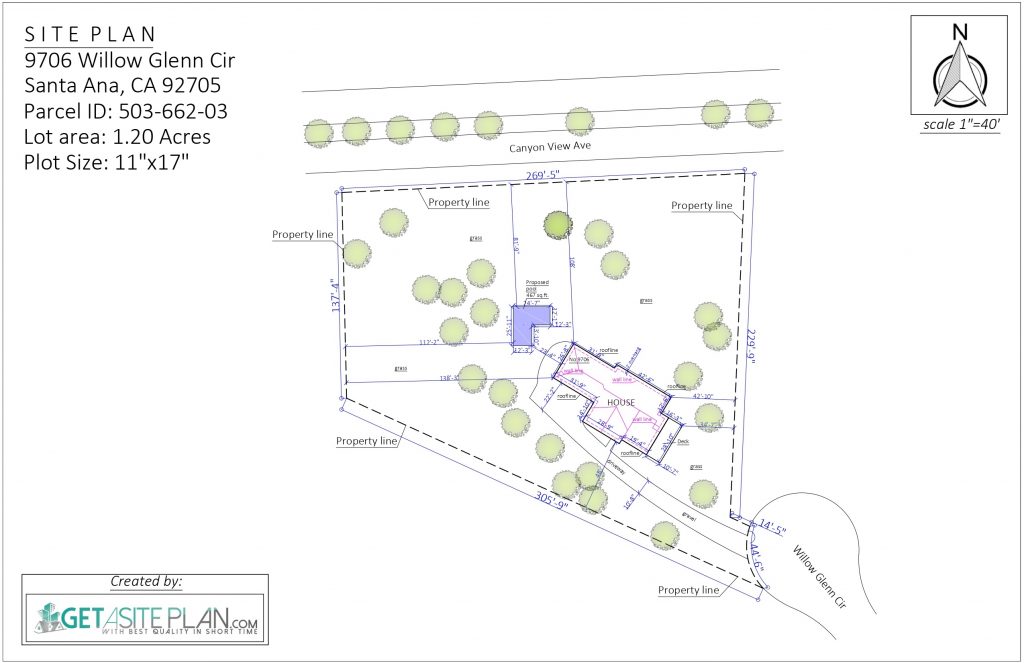 Once all the information we need is collected, our designer starts working in AutoCAD to create the site plan. Our Team of designers will check all of measurements with county records to confirm accuracy. Our Site Plans are really accurate and rarely do we misplace a structure or anything on the final Site Plan. If we do however misplace something, be sure to reply to the email with anything you want updated or just simply give us a call. Our customer support number can be found at the top left corner of the website.
The last step is when one of our designers delivers the Site Plan to you, by sending it to your email address. If you need any adjustments, we will do them without any additional cost. You can place your order by clicking here. Once you place the order, we will get your Site Plan back to you within 24 hours, or within 12 hours if you select the "Rush Order". We work every single day, even weekends, so don't be afraid that if you place your order on Friday, you won't get it in time. It will be delivered first thing Saturday morning!
We are here to make your request into mutual successes!
Get A Site Plan team
Tags: Simple Package Site Plan, Medium Package Site Plan, Premium Package Site Plan, Gold Package Site Plan, How we work, Get A Quote from our Team, Explore our Site Plan packages, Contact us here.